Image Classification With Cloud ML Engine & Datalab via Cloud Shell
GSP040

Overview
Cloud Datalab is an interactive data analysis, visualization, and machine learning tool. It enables you to author and run Python code in the form of notebooks. Notebooks bring together code, results of code execution including visualizations, and documentation in a single file. They also allow you to capture a history of executions so you can iteratively refine your data analysis by using previous execution results.
Is this your first time using a Datalab? (If you're an experienced Datalab user or just finished trying out Datalab in another code lab, you can skip to the next section titled "Image Classification".)
Here are a few tips to help you get started:
Datalab is an open-source notebook built on Jupyter (iPython).
Datalab is free.
Use Datalab to write code in Python, analyze data, and insert:
SQL & JavaScript for BigQuery
Markdown for web content
Generated charts and tables
Your lab uses Datalab to give instructions and commands. When you start your Datalab, you will create a new notebook to write code (code snippets are provided by your lab).
Keep in mind that you will not have access to notebooks you create once the lab ends.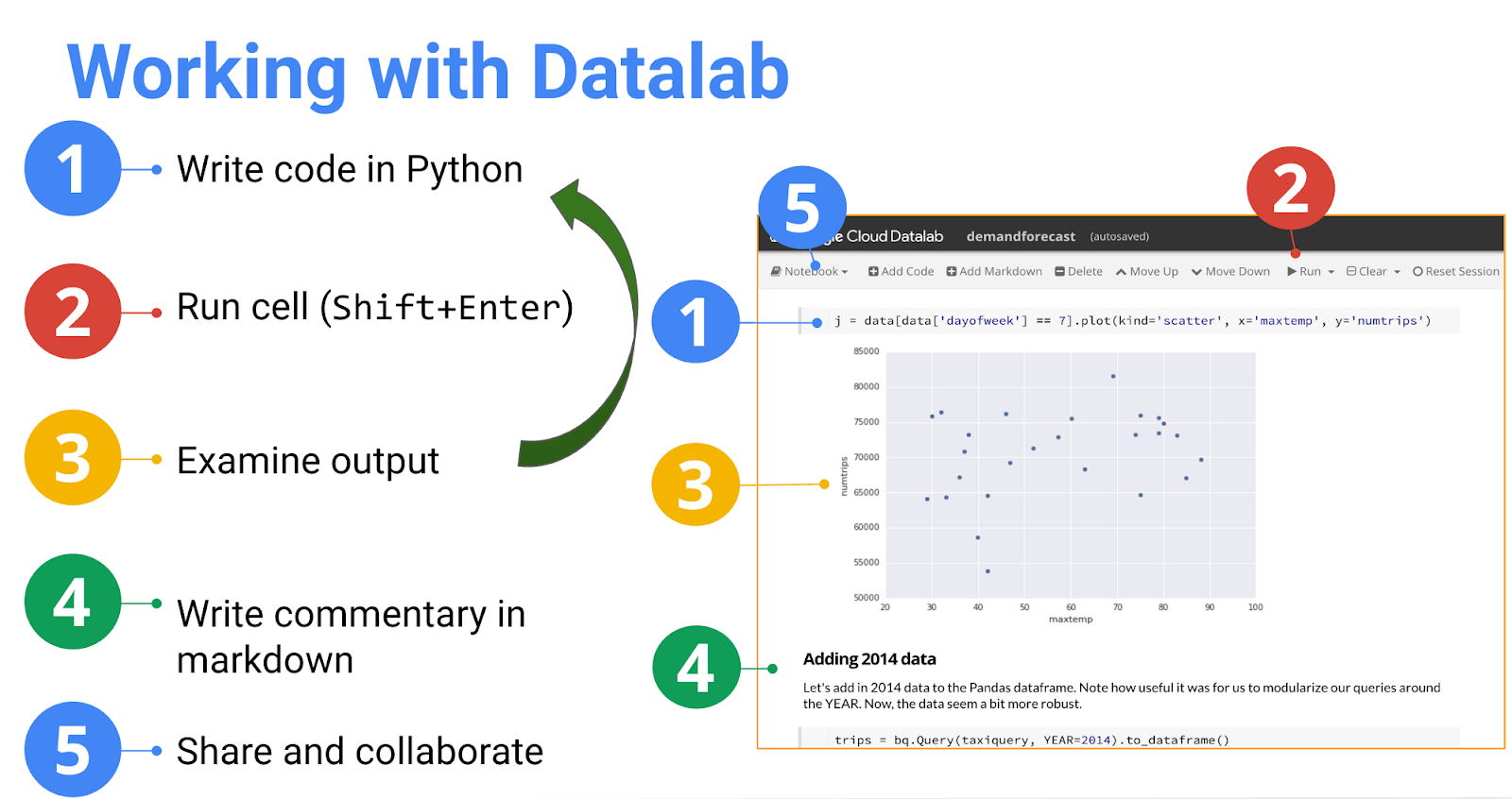 Cloud Machine Learning (ML) Engine is a managed service that lets you run TensorFlow-based models in a distributed fashion for training and prediction. It also provides a way to run training locally (e.g. on the VM running Datalab) so you can validate your model against a small sample of data before submitting a long-running training job.
What you'll learn
How to create a Datalab instance

How to create a Datalab notebook, write code for execution and view results

How to preprocess and train using ML Engine

How to use transfer learning for image classification

How to evaluate resulting model

How to predict using the model
What you'll need
Join Qwiklabs to read the rest of this lab...and more!
Get temporary access to the Google Cloud Console.
Over 200 labs from beginner to advanced levels.
Bite-sized so you can learn at your own pace.
Join to Start This Lab
Pontuação
—/10
Create a new Google Cloud Datalab
/ 5
Checkout notebook into Cloud Datalab
/ 5
Bem-vindo ao seu primeiro laboratório!
Pular